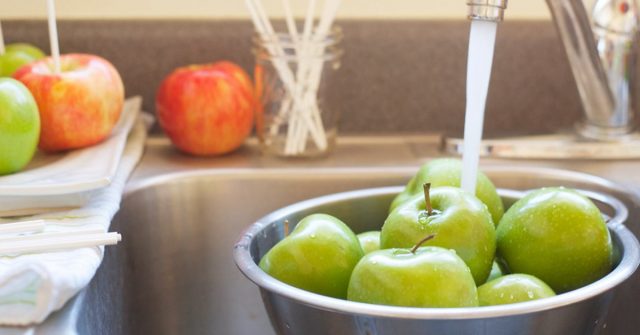 The USDA recommends eating 5-9 fruits and vegetable servings a day. However, before you reach for something to eat, please make sure it is properly cleaned.
There is one fruit and vegetable wash that is totally safe and it removes 4 times more contaminants and pesticides from vegetables and fruits than water alone. Here are the two most common ingredients in vegetables and fruits wash.
ETHYL ALCOHOL – Just like you use alcohol to disinfect your things in the kitchen or the bathroom, you can also use food-grade ethyl alcohol wash to remove all dirtiness and bacteria from your fruits and vegetables. Plant-based ethyl alcohol is safe in small quantities because it is derived from corn.
CITRUS OIL – Food-grade citrus oil removes the buildup that is left on the fruits and vegetables – grime, wax, and other things used to polish the fruits to look shiny and beautiful.
You can buy vegetable and fruit wash as a concentrate that needs to be mixed with water or you can buy it in a spray bottle depending on the quantity of produce you want to clean.
If you want to wash a lot of fruits or vegetables at once, then it is better to add a few drops of concentrate to a bowl full of water because it is a more economic choice. However, if you want to clean one fruit and you don't want to get your hands soaked in water, then a spray bottle is a faster and more effective way.
If you wonder about the safety of the products you buy, then check the label. If your produce is organic then you should opt for an organic wash as well. Check the label for "certified organic" because that wash is free of synthetic additives. If you want your wash to be gluten-free, like most veggies and fruits are, then make sure your wash is also gluten-free.

Latest posts by Mary Wright
(see all)